Our Purpose:
To change people's lives by empowering you to write your story.
---
Like you, book coach and business expert Sue Kennedy has seen the word 'writer' defined numerous ways over the years. Is it writer or author? Is it both? What is the difference? Is it a device that writes data to a storage medium? Or, is it meant only for the chosen few who can write fluently?

With over three decades of book coaching, speaking, and most importantly, real-life, in-the-trenches business experience, her view is radically different. Sue appreciates, and shares with listeners, that writing your story is a journey that allows you to access your untapped, forgotten, or ignored passions and energies that will get you moving. Everyone has a book inside of them. It's how we share our story that counts.

Sue, sometimes referred to as the "People Whisperer" for her coaching skill that brings out the best in people, is known for her practical, street-savvy style; Sue's fusion of real-life stories and her conversational techniques connect with her audience at an intimate, intense and individual level.

With her signature masterclasses, Sue provides her clients with strategic, creative, and surprisingly fun techniques to express their hidden genius and tap into the full extent of who they are and what they can become.

Her successes include running online workshops to help authors get the best leverage they can from their books.
Alongside being a book coach & publishing house, Sue has been on many local not for profit organisations as a senior executive member, helping the local community with her many talents and skills. 
Sue Kennedy founded her company on the core belief that everyone has a book in them.
For all aspiring writers, entrepreneurs and executives who want to become world class, best-selling, award-winning authors to meet, connect, brainstorm, create and bring their ideas into the world, Sue can guide you through her 5 step unique method to achieve your dream no matter where you are on your writing journey.
Sue is widely regarded as one of Australia's leading strategic thinkers, business speakers and educators in the field of book writing.
For more information, please contact us here! or schedule an appointment below.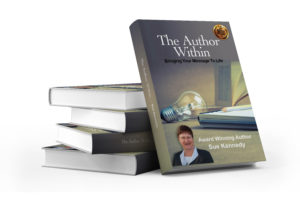 I can't thank Sue enough for her encouragement.
Thank you hardly seems a big enough word for Sue. The story Locked Out had to be told. I came to Sue after some very harrowing experiences with publishers and editors and was in no shape to try again. Sue gently walked me back along the path of courage through the doorway to publishing to believe I still had it in me to tell the story and now, Locked Out is in print. Without you Sue, Locked Out was almost Locked Away forever. Gratitude in infinite doses, not just from me, but from the people in Locked Out who you have given voice to.